Are you one of those people who can never seem to find their keys? Whether it's your house key, your car key, your mailbox key, or all of the above, you're constantly rummaging through your house for those sneaky, slippery keys. Wouldn't it be nice if you knew how to keep track of your keys for once? Instead of digging through purses, pockets, junk drawers, and bags, you would always know exactly where to find your keys. Today, we want to help you make that dream a reality! Scroll down to learn how to keep track of your keys using some simple tips and tricks.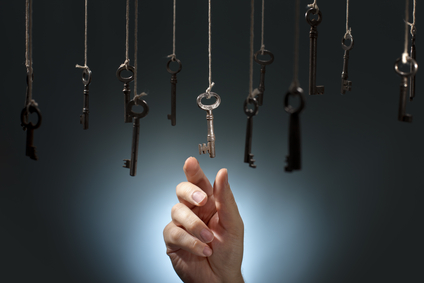 How to Keep Track of Your Keys
1. Create a habit. Our lives are built around habits and routines, so if you want to learn how to keep track of your keys, create a habit! The most obvious option is to always place your keys in the same place. For example: when you come home, always hang your keys on a hook near your front door. The specific place doesn't matter so long as you use the same place every time. You could place your keys on a hook, in a bowl, next to your phone charger, etc. Over time, this action will become a habit and you'll always know where to find your keys!
2. Attach your keys to something important. If you're struggling to create a habit, you might consider using a product to attach your keys to a larger object that you rarely (if ever) lose. For example, if you always carry a purse or bag when you leave the house, attach your keys to the inside of your purse using a long chain or cord with a carabiner hook on the end. Or, for a more streamlined approach, you could use a very thin, strong ribbon to attach your key to your wallet and always keep the key in the section of the wallet meant for coins. This method isn't particularly convenient, but as long as you keep the key attached to an important object (an object that you have never lost, ideally), you won't lose it.
3. Purchase a handy, key-finding product. Finally, if learning how to keep track of your keys feels impossible, buy a tracking device to do the job for you! There are technological devices available that allow you to attach a tracking chip to your keys (so you can find them with your phone) or apply an attachment to your keys that beeps if you press the coordinated button (which must be kept in an un-losable spot). To check out some of your options, click here.
– – – – –
Let's face it—even after you've learned how to keep track of your keys, you'll probably lose them again at some point or another. When you do, assuming you live in or near Springfield, MO, contact Advanced Key. Since 1982, we've been providing the Springfield area with a variety of locksmith services, including mobile service, automotive replacement keys, commercial and residential re-keying, the change and installation of locks, and ignition service and repair. So if you're in a jam, give us a call at 417-865-9393 or click here to contact us online. We would be happy to help!