When you buy a new house, there are often so many things on your mind (mortgage payments, new neighbors, decorating, renovating, packing, unpacking) that you forget to address your new home's security. So today, we're answering a common question: should I change my locks after buying a house? Although you might feel nostalgic remembering your realtor's ceremonial presentation of the keys (especially if you're a first-time homeowner), rekeying your new home is a sensible idea. After all, if your home's locks haven't been changed and the previous owners had any copies of the key, they (or anyone they gave a spare key) could easily break into your house. So should I change my locks after buying a house? Scroll down to find out.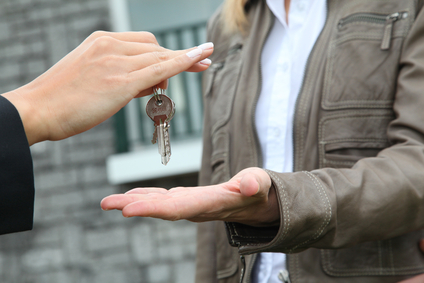 Should I Change My Locks After Buying a House?
"Should I change my locks after buying a house?" you ask. Definitely!
Security should be your first concern when you move into a new house. Most people create spare copies of their keys, so the previous homeowners likely had a few extra sets that they gave to trusted neighbors, family members, friends, or even contractors. I don't know about you, but the idea of strangers having quick and easy access to my home is unsettling. Especially after moving into a new home, you want to feel safe and secure when you lay down your head at night.
If you want to feel confident in your new home's security, you have two options:
You can change your locks.
You can rekey your locks.
Replacing your locks is the more expensive, invasive, and complicated method. You will have to remove the entire lock (or two or three or eight locks . . .) and replace it with another model. This option is recommended if you don't feel the current locks are reliable or you'd like to upgrade to stronger, more efficient locks.
If you're pleased with your home's locks but you're afraid extra copies of the key are floating around, you have a simpler option: rekeying. When you rekey a lock, you change the lock so that it can be operated by another key. This is done by altering the tumbler, changing the water configuration, or forcing a new key exchange. After the lock has been rekeyed, the new key can operate the lock and the old key is invalidated.
To have your locks changed or rekeyed, simply call a reliable, trustworthy locksmith. Over half of new homeowners don't change or rekey their locks, but it's hard to understand why. It's a simple, quick, and affordable process. So don't forget and don't underestimate the importance of rekeying. If anything should happen in the years that follow this move, it will be hard to forgive yourself.
And while you're at it, remember to change the codes for your garage door opener!
– – – – –
So should I change my locks after buying a house? Without a doubt! If you don't change your locks or have them rekeyed, you might never feel completely secure in your home. The peace of mind is worth the small fee and minimal effort required.
If you recently bought a new house and you live in or near Springfield, MO, contact Advanced Key. Since 1982, we've been providing the Springfield area with a variety of locksmith services, including mobile service, automotive replacement keys, commercial and residential re-keying, the change and installation of locks, and ignition service and repair. Give us a call at 417-865-9393 or click here to contact us online. We would be happy to help!